Instead of sitting at table in my Darwin Gallery exhibition, hosting art there…I was gallivanting about the nation and found myself in Melbourne. Of course it was deliberate as most of my family and I were dining with long time friends who had arrived from South Australia to be introduced to my Godson's OS girlfriend just in from the USA. That was the first Dinner Party of the weekend. It was DIFFICULT because our children had celebrated many, many Christmases and Easters together over the years found themselves in different corners of the world and expanding. Each of them would travel far in their young lives – physically, emotionally, socially and spiritually.Perhaps they would not have contact like this again. And the parents…we have journeys too.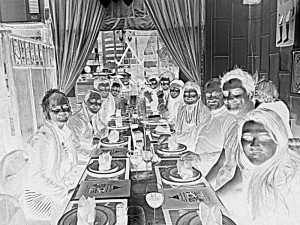 The second DINNER PARTY was just as important as it was my son Joe's 26th birthday and was celebrated with family friends at Jon Westfall's, another birthday boy, house..in their unheated garage @ 2 degrees Celsius! still, a warm evening and plenty of laughs! It was difficult because whenever you bring people together, you hear their stories….life brings lots of difficulties. It sometimes takes courage to live.
Thanks for the fun and much to also chew over…..